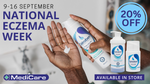 Did you know that eczema affects 1 in 5 children and 1 in 10 adults in the UK? Eczema is more than just an itch, it can cause dry, itchy, red and inflamed skin that can be very uncomfortable and distressing. Eczema can also affect your mental health, self-esteem and quality of life.
National Eczema Week, from 9 to 16 September 2023, is about raising awareness and support for people with eczema by the National Eczema Society. 
If you have eczema, here are some tips to help you:
Use moisturisers (emollients) every day to keep your skin hydrated and prevent itching.
Use steroid creams (topical steroids) when prescribed by your doctor to reduce swelling and redness during flare-ups.
Avoid things that can make your eczema worse, such as allergens, irritants, heat, stress or infections.
Seek professional help if your eczema is severe or affecting your mental health. 
Get support from your local pharmacy. Our MediCare pharmacists can give you advice on the best products and treatments for your skin. You can also order your repeat prescriptions and get them collected or delivered to your home for free.
Eczema can be hard to live with, but you are not alone. There are many ways to cope and get support. This National Eczema Week, visit your local MediCare pharmacy and see how we can help you.

Don't forget to get 20% off on Cetraben skincare range, the first eczema-prone skincare range to be approved by the British Skin Foundation. Cetraben products are designed to moisturise and protect dry, sensitive, or eczema-prone skin. They are safe for all ages, free of fragrance, SLS, paraben, and animal products.