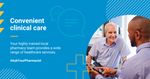 Ask Your Pharmacist Week, 30th October to 6th November 2023, is an annual national awareness campaign organised by the National Pharmacy Association (NPA). The campaign aims to raise awareness of the NHS services and skilled staff available in local pharmacies, and to encourage people to visit their pharmacy first for minor ailments and self-care advice.
This year's theme is 'Meet Your Local Pharmacy Team', highlighting the extensive skill set and knowledge of community pharmacists and the wider pharmacy team, and their track record of safely delivering clinical services. The campaign also emphasises that your community pharmacist works closely with your GP and the rest of the local healthcare team to make sure you get the best possible care.
Pharmacists are qualified healthcare professionals who have completed five years of training and education. They have knowledge of the human body, the use of medicines to treat disease and diagnosing common illnesses. With continuing professional development, their skills are always up to date.
Pharmacists are supported by a team of trained staff working under their direct supervision. They can include: Pharmacy Technicians, Accredited Checking Technicians, Dispensing Assistants and Medicines Counter Assistants. All undertake regulated training in the safe use of medicines.
During Ask Your Pharmacist Week, we at MediCare would like to introduce our staff members by sharing stories of how they have helped patients and made a difference to their local community.


 Let's meet
Andrea, Accuracy Checking Technician, Strabane:
As an Accuracy Checking Technician, I play a pivotal role in ensuring the safety and well-being of our patients. My job is all about precision, attention to detail, and maintaining the highest quality standards in medication dispensing. Every day, I'm proud to be a part of a team that prioritises patient health and safety.
"One day, a distressed young mother, walked into the pharmacy with her infant son who was prescribed a specialised medication. She was anxious and worried about giving the correct dosage. The pharmacy team had already prepared the prescription, but I could sense her apprehension. I took a moment to explain the dosing instructions in a clear and reassuring manner, alleviating her concerns. I double-checked the medication's accuracy and handed it to her with the confidence that it was perfect.
A week later, she returned, her son now healthier and happier. She told me how much our support and my assurance had meant to her during that stressful time. It reminded me that my role isn't just about pills and bottles; it's about providing peace of mind and a helping hand when patients need it most. That's what makes being an Accuracy Checking Technician so rewarding."
Visit your local MediCare pharmacy today and meet your friendly pharmacy team! We are here to help you and your family with your health and wellness needs. 👋