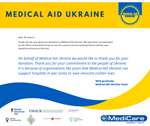 Managing Director of MediCare Pharmacy Group, Michael Guerin, has kindly donated much needed medical supplies such as wound dressings, sterile wipes, plasters, gloves, and bandages as well as burn gels and sterile saline pods, all of which have been used by Medical Aid Ukraine to create first aid kits for Ukraine.
Medical Aid Ukraine are a UK and NI doctor-led collaborative group who aim to raise funds and source medical aid for those affected by the conflict in Ukraine. They have a network of doctors and hospital staff on the ground in Ukraine and work tirelessly to deliver life saving medical supplies to locations that need them the most.
MediCare Pharmacy Group business ethos is "Caring for your Health", and we deliver services and medicines to our customers and patients in the most efficient and effective way possible. At times of humanitarian crisis, the aspect of "caring for your health" for us must reach far beyond our local community, which is why MediCare have acted and generously provided much need supplies to Medical Aid Ukraine.
'Our world and communities are moved by the conflict in Ukraine, and we are all in awe of the commitment and courage of the people of Ukraine and those who provide support to Ukraine. At MediCare we sympathize with those caught up in the current struggles war has brought and we hold them in our thoughts during these difficult times'.
MediCare wish to thank Medical Aid Ukraine and other charities for their determination and passion, providing vital supplies and assistance to those most in need.